Hi!
I'm an independent freelancer, providing software engineering services, crafting code with love and thought.
Please explore this website to find:
How I helped my clients
What I learned from that
When you should contact me
Responsibilities:

R&D, new products
proposing new ideas and technologies
documenting and implementing
teaching and learning

Improved skills - and opensource created:

python: fastapi, typing, mypy, uvicorn, poetry, poethepoet, asyncio, AsyncMock - ahasura
db: postgresql, pl/pgsql, data-modifying CTEs, hasura - bug report, workaround, doc fix, doc improvement
bash: scripts - answer
docker: secrets, size and performance optimizations
aws: cognito, cross-account s3-sqs-lambda, cloudformation - comment
nodejs: nvm, aws-sdk, pg
devops: terraform, gitlab ci/cd, kotlin teamcity dsl
sumo logic: search query language, lookups, dashboards, monitors, alerts

Team says:

«You're doing a great job and we're really pleased with the quality of the things you are delivering. It's great that the required functionality was so easy to add without us having to add new endpoints and custom python code. Very happy that we listened to your recommendations any updated our architecture and frameworks accordingly»
Responsibilities:

R&D, new products
proposing new ideas, requirements, flows, models
documenting, implementing most complex parts
reviewing PRs a lot, proposing fixes and improvements
answering questions, teaching and learning

Improved skills - and opensource created:

python: black, django, asyncio, graphql, graphene - aiographql
serverless: aws sam, fargate, chalice - chalice-lambda-image
aws: iam, ssm, s3, rds, vpc, elbv2, apigateway, ecs, route53, sagemaker
bash: shellcheck, aws cli - binfra
deploy: docker, kubernetes, kops, terraform
db: postgresql+jsonb, metabase, hasura
ai/ml: ecree, openai, sagemaker, tensorflow
integration: auth0, jira apps, chrome extensions, ims qti, ims lti sso
tdd: factory_boy, pytest
ci/cd: semaphoreci, circleci, github actions
dev tools: sentry, locust, swagger, quip, jira, slack, zoom, github, kitty+micro - config

Team says:

«Denis is a great person to work with, really a problem solver specialist, he is a great mentor and I am glad to have the chance to work with him. He always provides great feedback and helps everyone as much as he can. I called him "The Professor" because of how much I learned from him.»
Created main frameworks, libs - and opensource:

Proposed and done over 500 tasks:

development of frameworks
scalability and failover
performance optimization
deep investigations
documenting flows
helping teammates
coding daemons
code review
devops

Improved my skills in:

python, its stdlib: multiprocessing, socket, etc
greenlet, gevent, gevent-websocket, gipc, greenletprofiler, gbn
memcached, twemproxy, pylibmc, pymemcache
redis, redis-py, gearman, python-gearman, zeromq, zookeeper
rabbitmq, puka, amqpy, nucleon.amqp, mqks
mysql, mysql-python, umysql, pymysql, my4geks
postgresql, psycopg2, pg4geks
mongodb cluster, pymongo
voip, asterisk, dialplan, pyst2, pystrix, agi, fastagi, ami, ari, smpp
aws, ec2, s3, route53, rds, awscli, boto, boto3
linux, ubuntu, bash, sysctl, iptables, nginx, mercurial, git, supervisor
etc: babel, graphviz, nltk, nodejs, nose, objgraph, requests

Team says:
Why software engineers love open source?
We take so much from our community for free, that we should provide something in return.
It is also a nice way to showcase the code we created without breaking NDA and work ethic.
github.com/denis-ryzhkov - 33 public repos, top one has 61 stars.
github.com/whyolet - open-source products like JONF.
stackoverflow.com:denis-ryzhkov - top 20% of reputation, 13 answers, top one has 79 votes.
pypi.org/user/denisr - 19 python packages, one is critical - top 1% of downloads over the prior 6 months: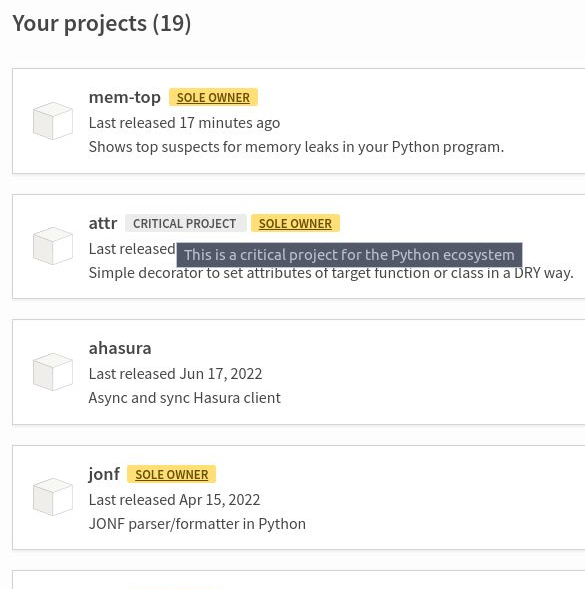 I also deeply agree with Alex Sadler, who said: "what matters is peer review, experience and understanding your objective".
These principles are very generic, hence timeless. Three first principles in the list above are ordered by priority. E.g. if making it DRY breaks the KISS severely, then ditch the DRY.
Once I found a code which was begging to make it DRY. I tried, added a dozen of parameters to make it happen. Found it became so complex, that I'd better revert it. Another senior engineer found I'm OK to keep it not DRY (a really unusual situation) and said like nah, I'll make it happen, I'm sure. After some time he reverted it too.
The main idea I've got from the Code Complete by Steve McConnell was: fight the complexity.
It's simple to create a complex code. It's complex to create a simple code.
But the value for the user actually beats even KISS: what's the profit from KISS, if the change doesn't bring a value to the user at all?
Improving the codebase should get the features to the user faster and with less bugs, as in replacing boilerplate Python code with Hasura.
We should build, measure (saying no to vanity metrics), and learn from this feedback data - to find what to build next and what to throw away. One great book I recommend is The Lean Startup by Eric Ries, valuable both for intrapreneurs and entrepreneurs.
I'm an independent freelancer, providing software engineering services
You may engage my individual entrepreneur company to perform particular tasks for a specific project
I prefer one big client at a time, but may consider to split my attention, if:

Project: brings real value to people - try to beat CMR Surgical at this
Backend: Python, DB, AWS, etc
Rate: 50 EUR or 55 USD per hour

If you have matching opportunity, please contact me